Ihr Lieben, ich hoffe ihr seid nicht all zu genervt, das es aktuell nur meine Get Messe Seiten zu sehen gibt. Ich nehme mir ständig vor wieder bisschen was zu bloggen aber irgendwie klappt es nicht :) Habt ihr Inspirationen oder Ideen?
Nun aber zu meinen Seiten...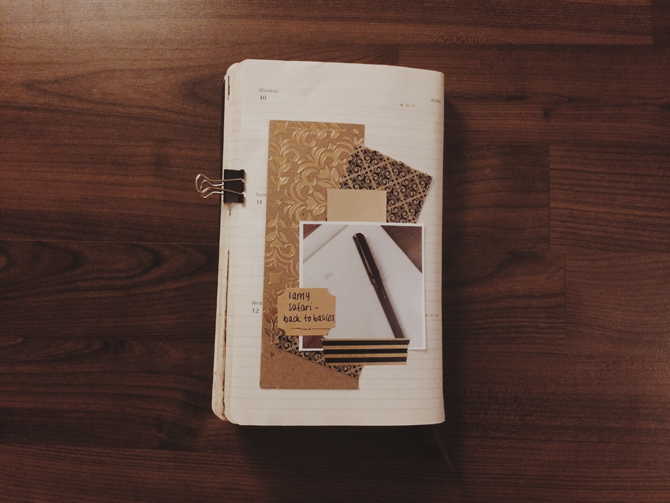 Ich plane seit einiger Zeit die Anschaffung eines Midori Traveler's Notebook und nächste Woche wird es dann wahrscheinlich soweit sein. Irgendwie wollte ich dafür dann auch, zumindest für das Journaling, einen Füller haben. Diesen haben ich mir dann schonmal gekauft, es wurde dann eine günstigere Variante von Lamy, das Modell Safari in einem dunklen, matten schwarzbraun. Einfach schön. Und es ist wirklich sehr ungewohnt mit einem richtigen Füller zu schreiben, wenn man seit Ewigkeiten an Kugelschreiber & Co. gewöhnt ist.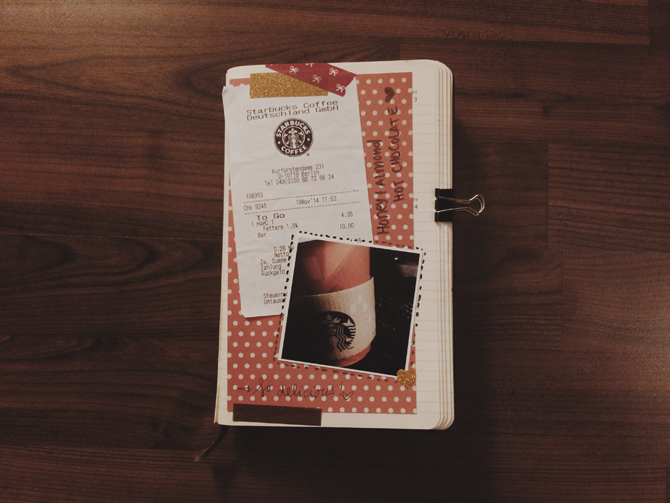 Gestern habe ich gesehen, dass es bei Starbucks ein neues Getränk zur Weihnachtszeit gibt - die HONEY + ALMOND HOT CHOCOLATE. Das klingt doch schon super lecker oder? Und das war es dann auch tatsächlich, definitiv ein Weihnachtsgetränk, welches ich sicher noch das ein oder andere mal trinken werden in diesem Winter.
Get Messy is an art journal challenge where a gang of crafty vixens are sharing art journal pages we have created to practise our skills and push past our creative limits with hopes to inspire. We share our pages without restraint every week, and once a month we create around a prompt. Go check out these crazy talented ladies who are creating pages who each have a unique perspective and style. We will be sharing our work around social media so follow the hashtag #getmessyartjournal.